Warning: Mature Content to Follow in This Section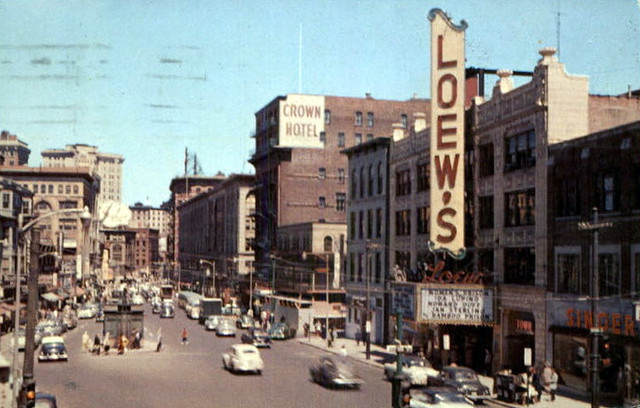 The street in Providence, Rhode Island were I blasted my 356, that wonderful exhaust echoing.  Duke's Billiards—I lived above it for a few months—would've been on the left, the Greek diner with the generous 25-cent soup was right of the movie palace, which was called the Ocean in 1975.
Kris and I dropped straight down through Vermont to Hal Stowell's cabin.  Hal was my tremendous hero through this era, and of course he had magically appeared after Andrea kicked me out the winter before.  I've never told the truth about why Andrea kicked me out, but I suppose there is no reason to hold back now.
Her obsession with me was because of the book The Little Prince, which was her great childhood favorite, and I still have her copy that she gave me sandwiched on a low dark shelf in the library of our house, her name written in childish huge letters.  When she saw me that evening at the RISD I was wearing a self-designed handmade suit of pale yellow cotton duck.  I had traded Betsy Carlson a painting since she was a talented seamstress.  Andi introduced herself, and after I left the college the next morning, we began to correspond.  Then, I hitchhiked that winter in 1974 to visit her at her beckoning.  [This has all been written about in a former entry.]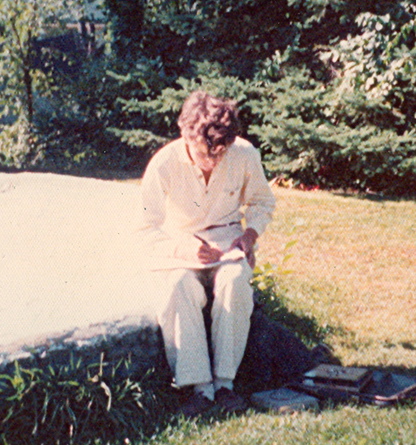 The suit a couple months old in 1973, Gorham, New Hampshire, the author writing!  The author rarely wore anything except that suit.  Even the belt was pale yellow cotton duck and thin as a crayon, the buttons including the fly were hand-carved maple.
What I've never told about my week with her (and ignored in my poem about her) is that she went to a doctor to have herself fitted with a diaphragm so we could fuck.  During the doctor visit she found out her college professor (she was in her final year at RISD and was getting her senior show in painting together) had not only given her an STD and made her pregnant, but he was also flunking her.  Her fury and anger were overwhelming as she was a very upper-class spoiled girl and had never had to deal with anything negative before.  As my roommate for one week recently e-mailed me (and I paraphrase):
"But then I remember you landed this crazy cute rich chick and you still bailed.  The two of you — just can't imagine her living in the woods when she was hob nabbing with the likes of Dick Cavette the TV guy in NYC swish splendor.  I saw her at various swish soho parties. I always had secondary (not good) thoughts about her although she was an extremely attractive young lady. And had ambitions, whatever they were, way beyond mine."
I tenderly held and soothed Andi's sobbing body for a day or so, took her out to eat at fancy joints until I was broke, and then she simply asked me to leave.  I felt an overwhelming emotional attachment (love?) for her because of having shared so much, so quickly, but she never gave me another thought after the lightning struck.  I'm always amazed by people who can be that self-serving and cold.
As a footnote, I tracked her down online recently, and actually contacted one of her former husbands—a famous and nice enough guy.  But, ha!  She still refused to have anything to do with me.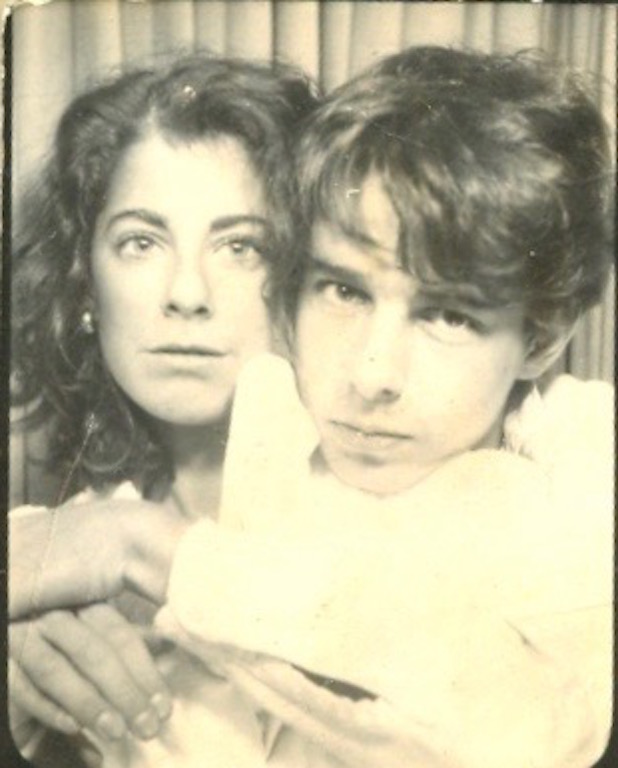 Taken in one of those photo booths that were in bus stations.  Providence, January, 1974, I was 17 by less than a few weeks, Andrea Shapiro (Andi Shapiro) was 21.  Think of that!