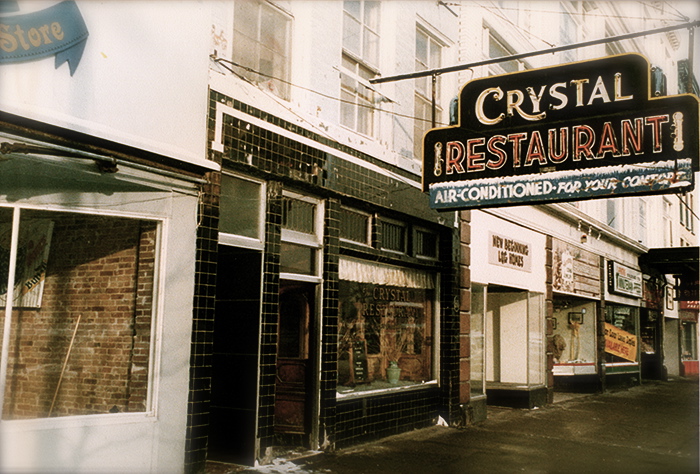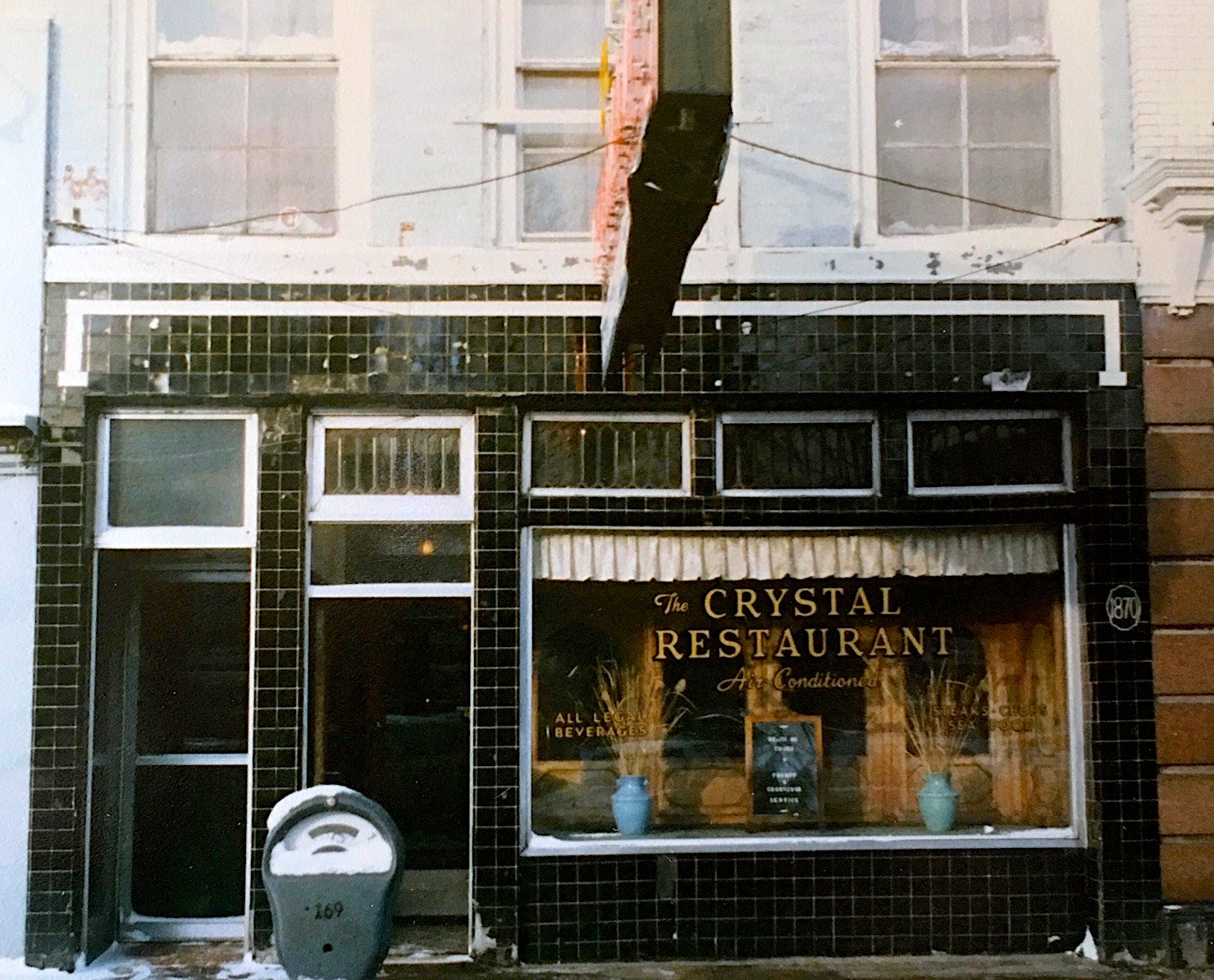 The Crystal neon when it was still working, probably late 1980s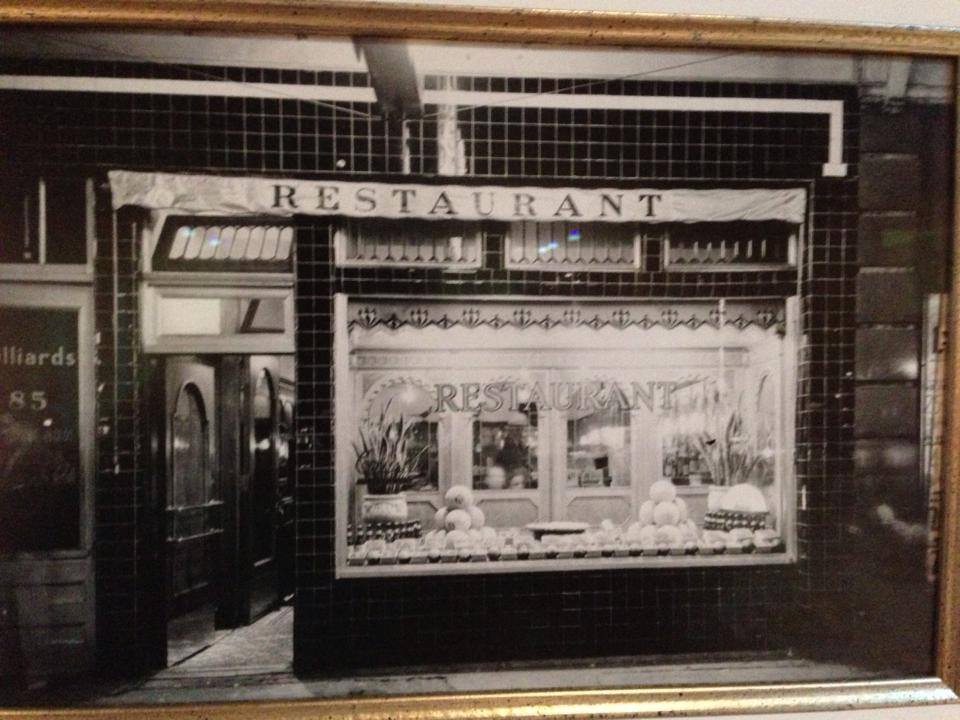 Two photos of the Crystal Restaurant in Watertown, New York were I have eaten many times with great joy and nostalgia.  It is one of the only places that still remains intact from my youth, and it has been featured in my novel A Repair Manual for New England Melancholiacs.
For Kris Marsala 1954-2018
Classic road trips do not begin as classics. It's not as if two guys look at each other one morning and say, "You in the mood for a classic road run?" And the other guy nods, "Sure, why not?" Nothing like that at all. And many times it's only after the run is completed, and it's fermented in the memory for a number of years, does it become classic. But my run with Kris Marsala around New England that summer of 1975 driving my blue 1956 Porsche 356A Super coupe is a true stand out. A true classic!
It began innocently enough. Kris was 21 years old and at the height of his handsomeness. I was maybe at the height of my fearless cool, having ridden freights for years, hitchhiked over 15k miles, I was a weathered tough road guy of 18 years old. Although I hadn't began lifting weights or learned to box yet, my pool hustling skills were formidable, my Willie Hoppe pool cue always at hand, and my heart had not been dimmed by the world yet, or completely broken as it would soon enough. I had a true positive rage to live—likely fueled by my many years of childhood illnesses and 22 hospital visits—and Kris was willing to accompany me.
At the quiet beginning (unusually vague in my memory) we headed east across upper state New York on Route 11. We must've stopped at McCarthy's diner because at that time it would've been impossible for me to drive past any classic diner without at the least a quick pull in for a coffee. I drank an inordinate amount of coffee during this era, which ending in around 1980 when I discovered coffee wasn't a health food as I'd thought. Bleeding ulcers shortly after ended my coffee craze forever.  But I ground my own beans by hand, and always carried my expresso vacuum pot (hilariously even to Europe—I brought sand to the beach).  Even on the freights I had a single cup drip coffee maker and always drank from my prized G.I. mug.  The stain inside was a thing of great value to me although Kris's mother Edie once scrubbed it clean by mistake.  In talking to Kris recently, this was one of the only things he remembered from the era.
Among other story gems, McCarthy's is the diner where Hal Stowell knocked a dime sized hole into his stemmed cocktail glass while over-energetically stirring his Bloody Mary one afternoon after soaking up endless beers from Montpelier, Vermont to McCarthy's. The thick red drink silently exited his glass onto the Formica tabletop as he gazed drunkenly into whatever space drunks gaze. His next sip was an empty icy surprise. I, of course, fell off my chair laughing, annoying everyone. Why do so few people embrace true happiness in others?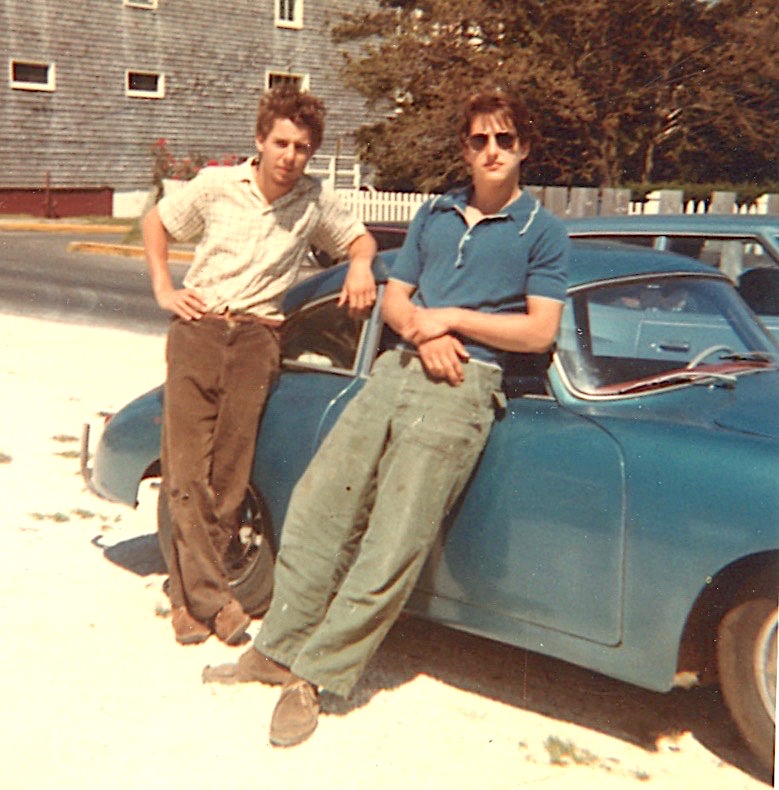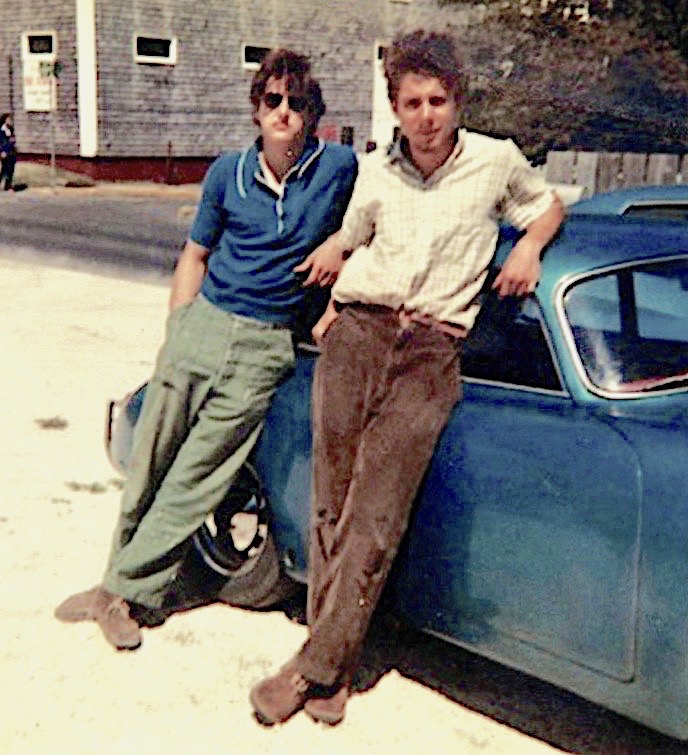 One morning in Provincetown, Massachusetts before heading up the Maine coast and over to Islesboro, which was simply a quiet island with a slow ferry back then.  No billionaires, no movie stars, and only one bar and a general store.  I had made my first corncob pipe there in 1971.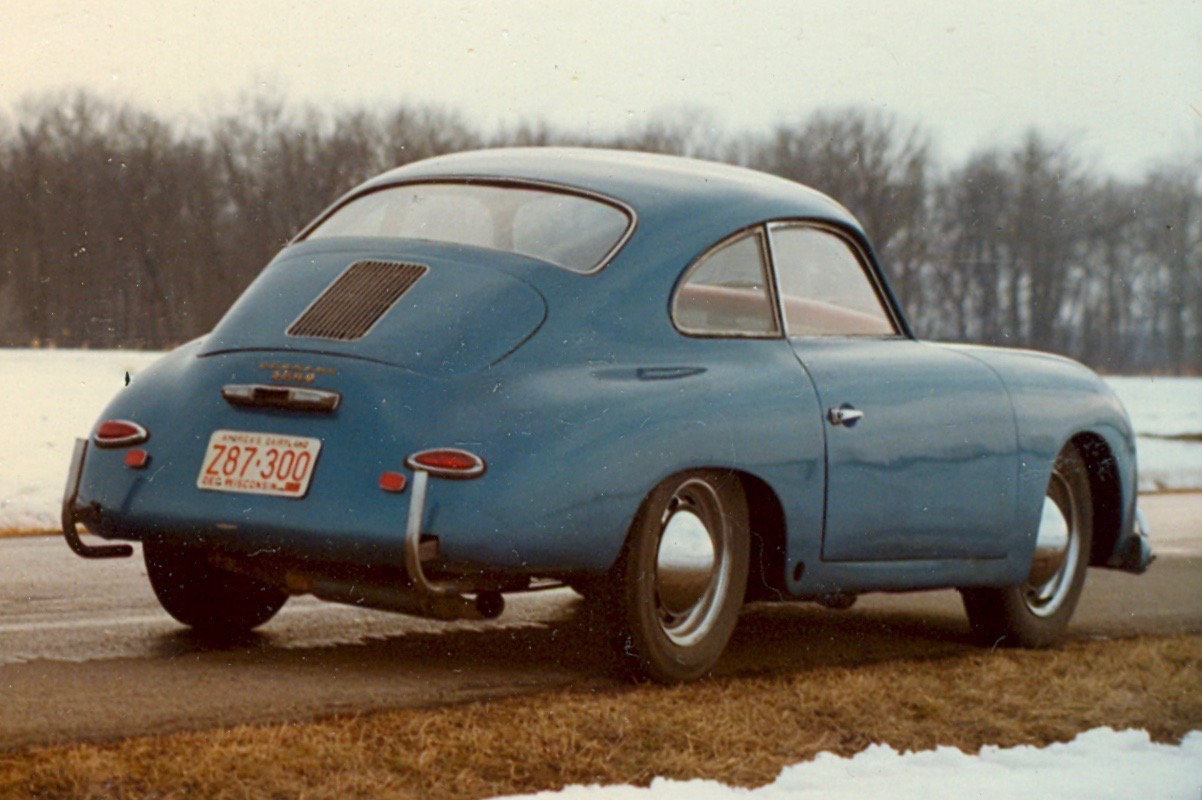 This photo shows the Bursch Extractor racing exhaust, which sounded incredible as we tore through city streets, the sound echoing off the brick and cement gauntlet, Kris hanging out of the window, half his body out of the car as he loved to do then, showing off his well-muscled naked torso, screaming at the cute girls, "It's the Mille Miglia, it's the Mille Miglia, it's the Mille Miglia," over and over.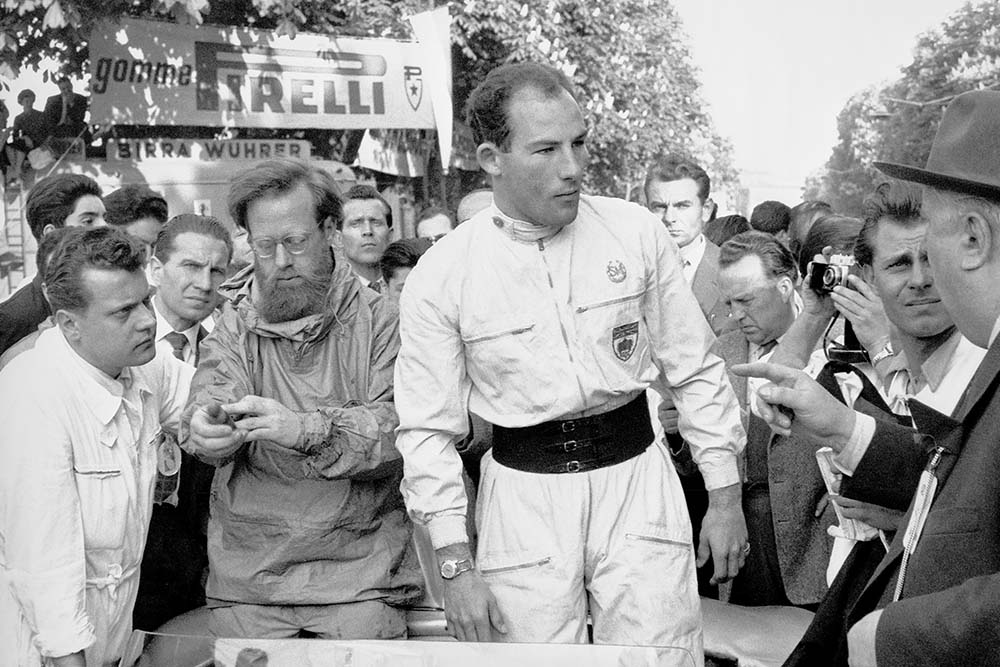 Sir Stirling Moss, one of my absolute and true heroes.  My father insisted Stirling had taught him the 4-wheel drift, as my father taught it to me, but I've never really wanted to know the truth.  I SO want to believe he did.
This was written by Jim Sitz in an e-mail to me on January 21, 2018:
Stirling was still not sure of Fangio being generous
that hot summer day 60 years later when we dined
on a grilled cheese sandwich in London [Fortnum & Mason].
Stirling made the point that he sure worked for it!
Years before we had had a lovely lunch just after his return from
Italy in celebration of his Mille Miglia win, which
I think gave him the proudest day in his career.
—Jim Sitz
I had told Kris about my hero Stirling Moss (who taught my father the 4-wheel drift in the late 1940s), Moss having won the great Italian road race in Italy in 1955, driving for 10 hours at an average speed of 100 mph, a feat that will never be equaled by any human being again.  Moss's winning Mercedes had plaid seat inserts.  The Quantum Run 356s will honor that with plaid seat inserts woven by the author's wife Amanda.  I'm very excited about that part of the car since plaid inserts were very rare in all but a few 1955 Continental 356s and there were only around 200 of those ever made.  The cloth has been sent to QC, who called on the tartan's arrival in California, crowning Amanda the finest weaver on the planet.  I could not agree more; besides, who am I to argue with the Q?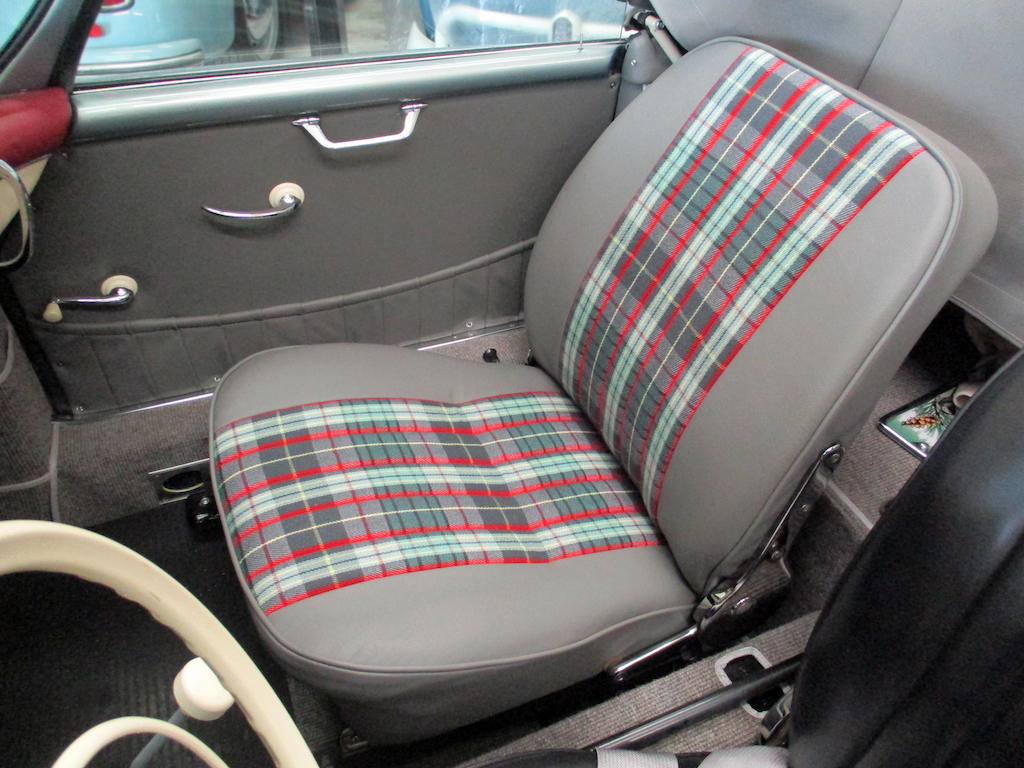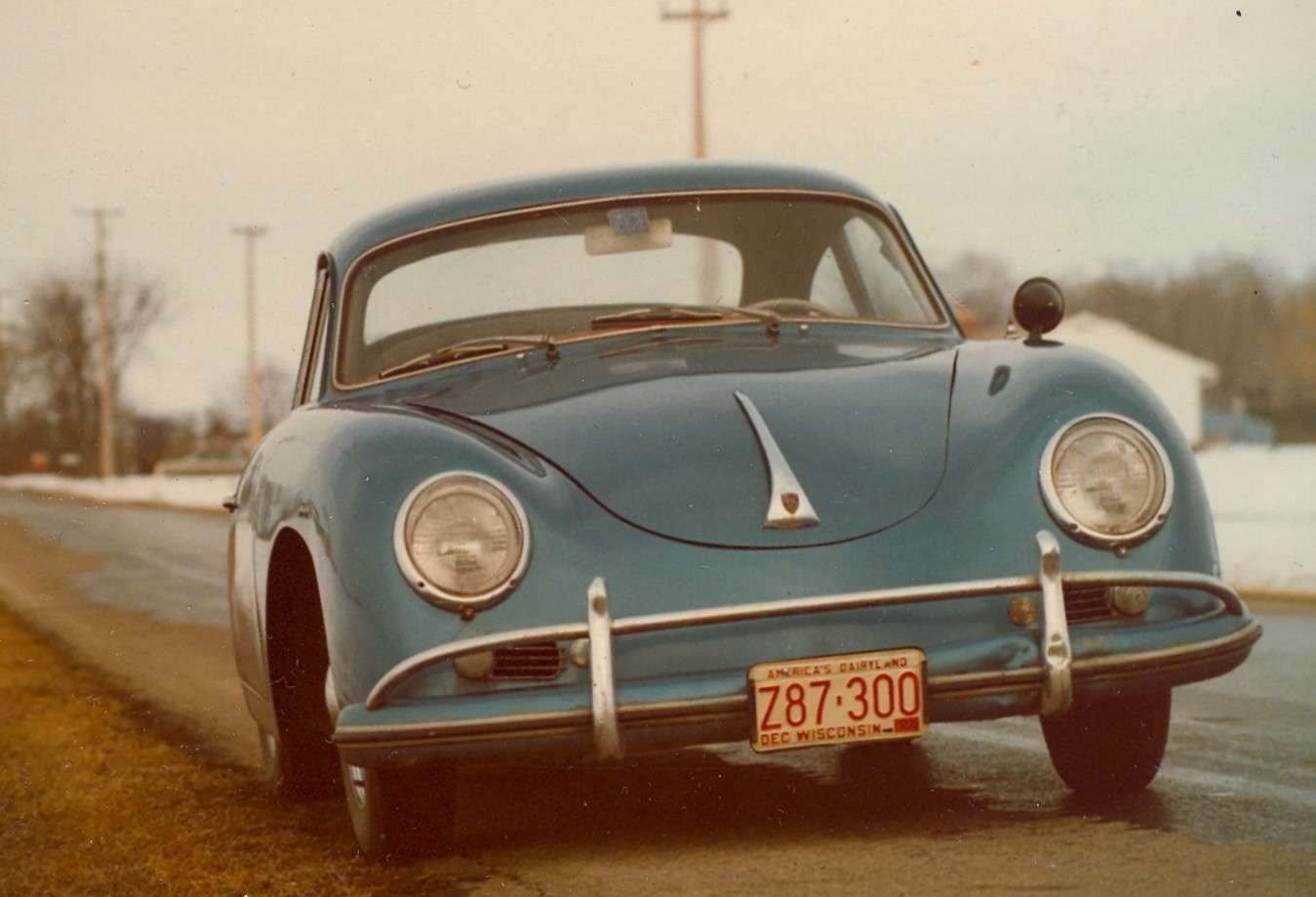 The car with the front bumper still attached (dent is NOT by the author who has never dented anything minus one Harley Springer front end).  My father talked me into removing the bumper—weight reduction—and then left it in Wisconsin after that house sold, refusing to move it although the move was paid by his new company.  As I've mentioned, he detested my 356 and basically refused to have anything to do with it until the third engine dropped a valve on Gorham Hill.  Then, finally, we rebuilt the 1500cc engine together, finding that someone had cloned 1300 heads onto the 1500cc block.  No wonder the valve stem overheated and snapped.  Porsche engines from that era received an unwarranted poor reputation.  Trust me, the issues were never with the engine but rather because of poor handling by careless drivers and mechanics.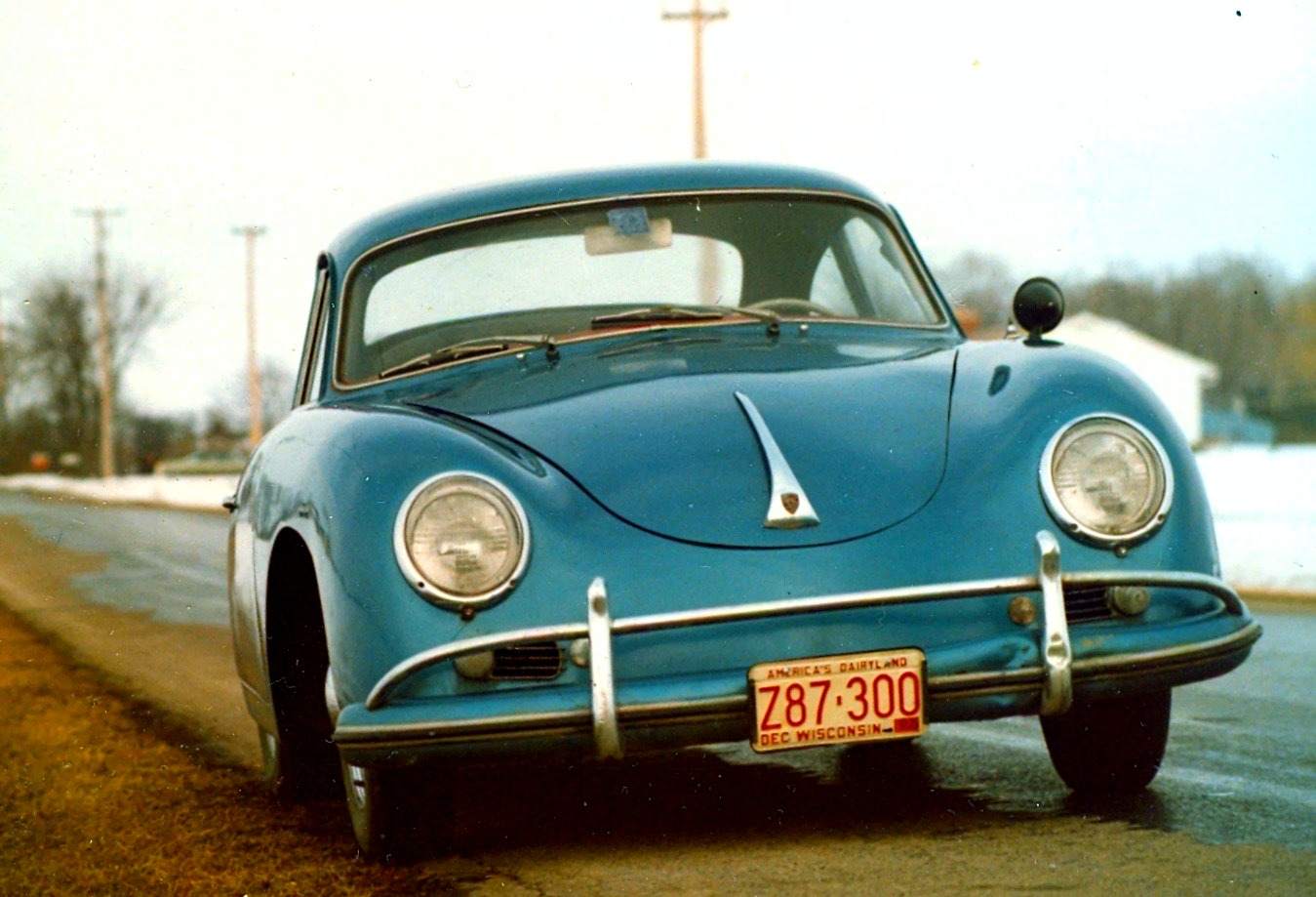 And the photo "cleaned" by my new French friend Gregoire who loves early racing and rare Ferraris.  His contact here: 
https://www.facebook.com/RacingPhoto
As an aside, a week or two before the valve broke, my father was listening to the engine as the car idled in his Vermont dirt drive.  After a few minutes he looked at me, "That doesn't sound quite right, Boo.  You're going to drop a valve."  To this day I get shivers remembering that.  My dad didn't understand people, but he understood machines as few ever will.
After a coffee and fresh-made cinnamon bun, Kris and I continued along the remote bleakness of Route 11, past the green vertical neon of the Casablanca sign, through the lost towns of Canton and Potsdam, and eventually over Rouses Point into Vermont.  Strange to think my parents had not yet quite moved to Morrisville, or later to Waterbury Center, where my mother would live until 2005 when I moved her to Belfast, taking care of her for the last 4 years of her life.  I'm sure we stopped at the hobby shop in Swanton and the Blue Lion in St. Albans because I always made the same stops that my father had made during my childhood.  What wonderful memories that hobby shop held because even then I was obsessed by model trains.  It was the first excitement on our way from Watertown to Beloin's Cabins in Camden, Maine, where we spent every summer vacation, every year until we began to head to P.E.I around 1968.